Rockford Lawyers
Featured Business
Give Bradley Schreiber a call today when you're searching for an attourney in Rockford, IL who specializes in criminal defense, divorce, family law, wrongful death, serious personal injury, and DUI.
More Info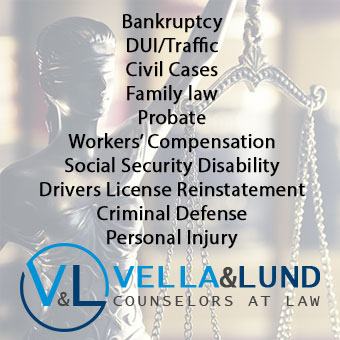 Vella Lund Law specializes in Bankruptcy, DUI/Traffic, Civil Cases, Family law, Probate, Workers' Compensation, Social Security Disability, Drivers License Reinstatement, Criminal Defense and
Personal Injury law.
More Info
Search by Speciality
Advertise With Us
For only two dollars a day, you can advertise with the entire Rockford Search Network! Have your business displayed in front of thousands and thousands of customers, receive premier search engine placement, and have a dazzling, user-friendly website, plus much much more!
Read here
for more information on how you can advertise with The Rockford Search Network.